Due to COVID-19, Litts Quality Technologies course offerings are taking place virtually as noted.
Upcoming 2021 Events & Courses
Litts Quality Technologies provides training courses throughout the year on various quality topics. See full course descriptions here.
Review the upcoming list below, and link out for more information and registration. You can see past courses here.
2021 Future of Auditing Online Expo
LQT is proud to be a speaker at this virtual event.
How to Conduct an Efficient Integrated Management System Audit presented by Rick Litts
Hosted by Exemplar Gobal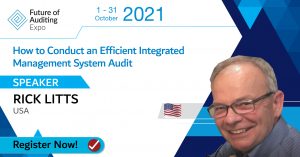 OCTOBER 1–31, 2021